Fast Clock Display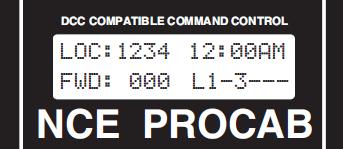 This product is for use with a DCC system by NCE.
DCC systems from NCE have a fast clock feature where the command station allows setting the time, time format (12 or 24 hour), and a fast clock ratio (1 to 15). Cabs with an LCD display are able to show this time on the right side of their top line of text. See the image to the right.
We have created a product that listens on NCE's cab bus for the broadcast of this time value and displays it on an easy to read LED display. This product includes a faceplate as it is designed for installation in the fascia of the layout. It has two RJ-14 jacks on its backside for installation in line with the cab bus, and one RJ-14 jack on its front for plugging in a cab.
The Fast Clock Display is currently not available as a kit - we have lowered the price of built units to the kit price.
Regular shipping fee based on location:

Canada: $14.00 (tracked)
USA: $17.00 (tracked)
Australia: $26.50 (tracked)
UK: $25.00 (tracked)
EU: $26.00 (tracked)
Thailand: $30.00 (tracked)
UAE: $30.00 (tracked)
Other locations: $32.00 (tracked where available)
FREE shipping on orders over $175

Tracked shipping is available to locations noted above. Contact us for information on other locations.

Where tracking is available, a reduced priced non-tracked shipping option is available on small orders up to 200 grams. This option will appear automatically at the checkout when available.

Payment methods available:

PayPal
Cheque or money order via mail
Interac e-Transfer (Canadian orders only)

Ordering multiple kits:

When placing an order with more than two of the same kit, bulk packaging will be used. This means that instead of separately packaged kits, the required quantity of each component will be packaged together. One or two separate components needed for all kits will be in a plastic bag or IC tube with a label or labels applied to indicate the component. One hardcopy of the assembly and installation instructions will be included with the order. If you require individual kit packaging, you must email us in advance or at the time of ordering.